Top WorkTech News From the Week of August 18th: Updates from Agiloft, Gartner, Software AG, and More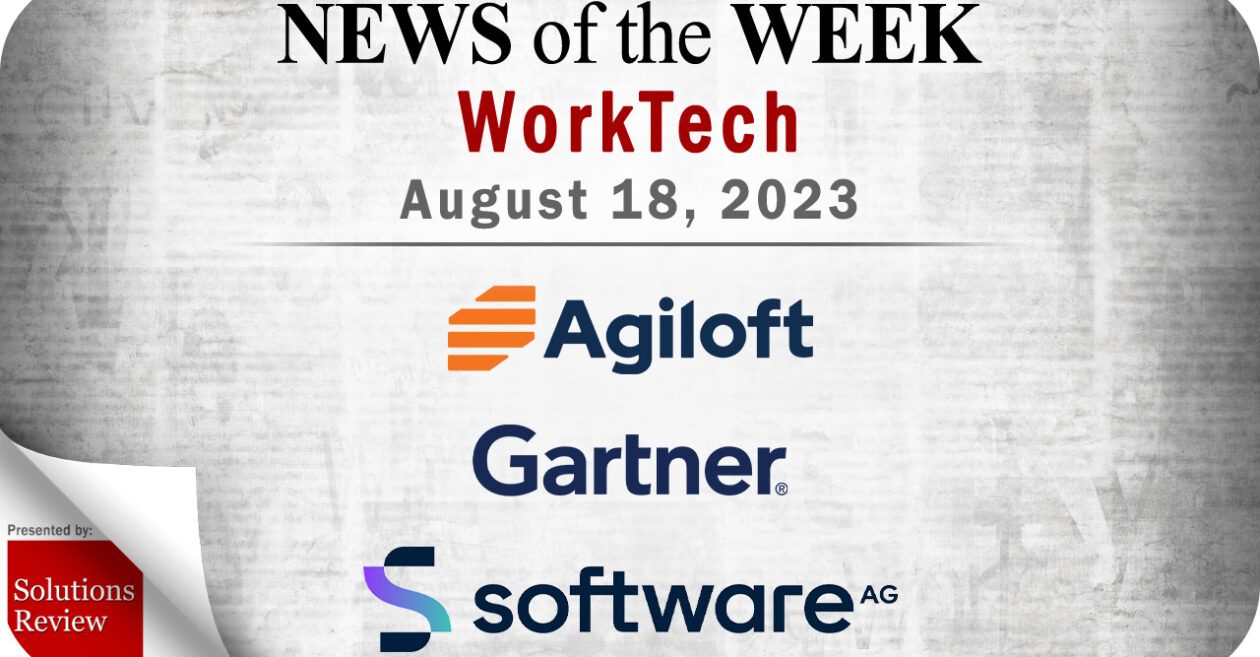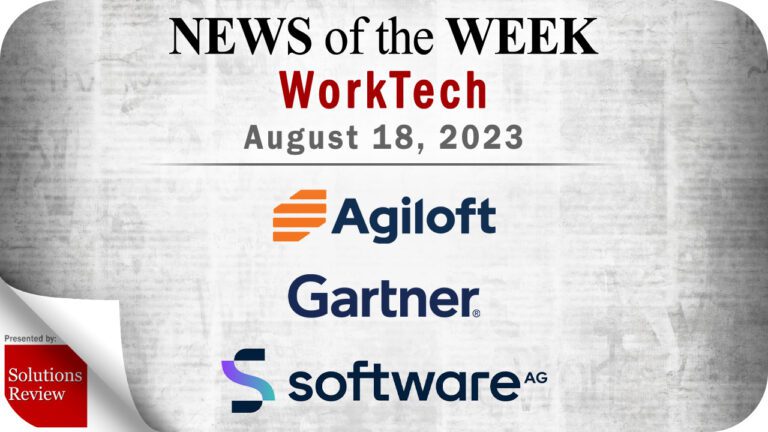 The editors at Solutions Review have curated this list of the most noteworthy WorkTech news from the week of August 18th. This round-up covers announcements and updates from companies like Agiloft, Gartner, Software AG, and more.
Keeping tabs on the most relevant ERP and BPM news can be time-consuming. As a result, our editorial team aims to summarize the week's top headlines in the enterprise technology marketplace. The Solutions Review editors will compile a weekly round-up of vendor product news, mergers and acquisitions, venture capital funding, talent acquisition, and other noteworthy WorkTech information. With that in mind, here is some of the top WorkTech news for August 18th.
Top WorkTech News From the Week of August 18th, 2023
---
Agiloft, a contract lifecycle management (CLM) solution provider, has released AI Trainer, a new AI model training capability designed to help non-technical users customize how they review and analyze contracts. The AI Trainer tool enables non-technical subject matter experts to create custom AI models capable of examining business-specific elements of a contract and identifying important terms, clauses, and obligations, helping them monitor risk, performance, and compliance efforts.
---
Aptean, an enterprise software solution provider, has acquired trend SWM and Best Practice IT Solutions GmbH, two companies that provide various ERP solutions to manufacturers and distributors in Germany. Best Practice IT Solutions GmbH primarily works with beverage manufacturers, while trend SWM works with paint, chemicals, cosmetics, and plastics manufacturers. The acquisitions will help Aptean enhance its ability to support mid-sized manufacturers and distributors in Germany and further develop its global scale and resources.
---
Certinia, a platform provider for services businesses, has announced the general availability of its Summer 2023 product update. The new release includes updates to Certinia's Services-as-a-Business platform designed to help new and existing users achieve a single source of certainty for their service operations. Other additions in the release include embedded AI functionalities, enhanced project management capabilities, new resource management tools, real-timeCertinia'snt insights, and upgrades to Certinia's accounting features.
---
Strategic advisory and analyst firm Constellation Research recently released its Constellation ShortList AIOps. The report from Andy Thurai spotlights fifteen AIOps solutions that companies should be paying attention to. These include Aisera, BigPanda, BMC Software, Digitate, Dynatrace, Elastic, IBM, LogicMonitor, Moogsoft/Dell, MicroFocus, OpsRamp/HPE, Resolve Systems, ServiceNow/Loom Systems, ScienceLogic, and Splunk. Constellation evaluated over forty solutions in the AIOps marketplace and selected these companies based on market share, internal research, client inquiries, customer references, partner conversations, and more.
---
Analyst house Gartner, Inc. recently released the 2023 edition of its Magic Quadrant for Robotic Process Automation, identifying sixteen of the marketplace's most effective robotic process automation (RPA) vendors. The researchers behind the report—Saikat Ray, Arthur Villa, Melanie Alexander, Andy Wang, Mukul Saha, and Sachin Joshi—evaluated each listed vendor's strengths and weaknesses and ranked them on the signature "Magic Quadrant" graph.
---
Silico, a business process simulation platform provider, has announced a strategic partnership with Marcadus, a business improvement management consultancy. The collaboration will combine Silico's Process Simulation Platform with Marcadus' data-driven process mining services to help both organizations create a flexible Digital Twin of any business process, simulate the impact changes made to process metrics, identify opportunities for process improvement, and simulate the possible changes made to the design of any piece of a process.
---
Software AG and SAP have announced a new partnership that will integrate SAP's Intelligent Asset Management Suite—including its Asset Performance Management (APM) offering—with Software AG's Industrial IoT Platform, Cumulocity IoT. The collaboration will benefit customers by providing tight integration between the platforms, closed-loop asset performance management capabilities, a centralized hub for managing assets, and the ability to integrate data from multiple sources, including legacy systems, edge devices, and other cloud-based applications.
---
Expert Insights Section
---
Watch this space each week as the Solutions Review editors will use it to share new articles from the Contributed Content Series, Contributed Shorts videos, Expert Roundtable videos, event replays, and other curated content to help you gain a forward-thinking analysis and remain on-trend with changing industry expectations. All to meet the demand for what its editors do best: bring industry experts together to publish the web's leading insights for enterprise technology practitioners.
---
As part of Solutions Review's Contributed Content Series, Berk Birand, the co-founder and CEO at Fero Labs, explains how focusing on production can help companies meet their supply chain sustainability goals. The article focuses on four best practices, which include investing in technology that addresses emissions, using AI to improve efficiency, monitoring energy consumption with analytics, and adopting circular economic practices.
---
As part of Solutions Review's Contributed Content Series, Prashanth Mysore—the Strategic Business Development and Industry Marketing Director at DELMIA—explains what digital twin technology is and how manufacturers can benefit from it. The article provides a definition for digital twin technologies and spotlights some of the industries it can be beneficial for, emphasizing the benefits it offers to manufacturers.
---
As part of Solutions Review's Contributed Content Series, Joe Snyder—the Vice President, Principal, & Corporate Secretary at KS&R—explains how the blueprint to retail success can help tech companies improve their business. In the article, Snyder goes into how companies can prioritize their customer experiences, leverage insights, remain agile, embrace digital transformation, optimize supply chain resilience, and more.
---
For consideration in future WorkTech news round-ups, send your announcements to wjepma@solutionsreview.com.
---
Latest posts by William Jepma
(see all)