Top WorkTech News From the Week of August 11th: Updates from Genpact, Vendavo, Apptio, and More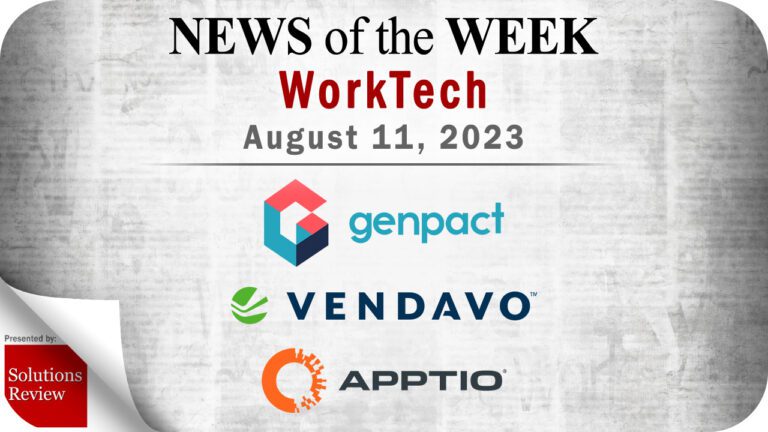 The editors at Solutions Review have curated this list of the most noteworthy WorkTech news from the week of August 11th. This round-up covers announcements and updates from companies like Genpact, Vendavo, Apptio, and more.
Keeping tabs on the most relevant ERP and BPM news can be time-consuming. As a result, our editorial team aims to summarize the week's top headlines in the enterprise technology marketplace. The Solutions Review editors will compile a weekly round-up of vendor product news, mergers and acquisitions, venture capital funding, talent acquisition, and other noteworthy WorkTech information. With that in mind, here is some of the top WorkTech news for August 11th.
Top WorkTech News From the Week of August 11th, 2023
---
Apptio—a spend and value management company—has launched new capabilities for its Targetprocess solution, which helps companies accelerate their Agile transformations and improve business agility. The new solutions include templates that enable companies to adopt the latest SAF3 6.0 standards and streamline the transition from project-based to product-based funding models. Additionally, Apptio is introducing several new budgeting capabilities to help clients track proposed budgets, set Lean Budget Guardrails (LBG), and more.
---
Creatio and its partner community have announced new applications, connectors, and add-ons for the Creatio Marketplace. The latest additions to the marketplace will help customers maximize the efficiency of vertical solutions, simplify app integrations, customize apps, improve chat-based interactions, and more. These new applications cover everything from survey management to phone connectors, developer tools, record formatting, mobile data management,  and learning management.
---
Genpact, a global professional services firm, has announced the incorporation of generative AI capabilities into its proprietary Enterprise350 intelligence platform. These generative AI capabilities will help Enterprise360 customers improve problem-solving, manage decision-making, adapt to business challenges faster, identify operational issues, optimize performance, accelerate value delivery, drive transformative change, and determine the next steps needed to achieve business goals.
---
Microsoft has announced several new tools and integrations for its Microsoft 365 solution suite to help frontline workers use "next-generation" AI technologies to improve communication, create trusted customer experiences, run intelligent operations, and support faster decision-making. The additions include a Dynamics 365 Field Service app in Microsoft Teams, shared device mode for Android and iOS devices, new announcement features in Viva Connections, a new Shifts plugin for Microsoft 365 Copilot, and more.
---
NetSuite has announced that it is now running in Oracle Cloud Infrastructure's (OCI) cloud regions throughout Toronto and Montreal, marking the first time NetSuite's service operates out of data centers in Canada. New NetSuite customers in Canada will be provisioned into the Toronto or Montreal cloud regions while existing Canadian customers will be migrated in the coming months. These new cloud regions mean NetSuite runs in thirteen OCI cloud regions across North America, Europe, and the Asia Pacific.
---
One Model, a platform that uses artificial intelligence (AI) to help employers make hiring decisions,  has raised $41 million in a funding round led by Riverwood Capital, a global investor in high-growth technology brands. The new capital will support the company's growth initiatives across the technology, customer success, product development, and go-to-market areas. Queensland Investment Corporation (QIC), AV8 Ventures, and Geekdom also participated in the funding round.
---
Vendavo—a global B2B pricing, selling, and rebate solution provider—has announced a new collaboration with Oracle to help joint manufacturing and distribution customers streamline the creation, administration, payments, and reporting processes on rebate and channel incentive programs. The partnership will bring the Vendavo Rebate and Channel Manager solutions to Oracle's CPQ and E-Business Suite applications and customers using the Oracle Integration Cloud (OIC).
---
Workspot, an intelligent VDI platform built for the "multi-cloud era," has announced that Workspot Trends is available now to its customers. The new offering is designed to help organizations make data-driven decisions. The Workspot Trends solution gathers performance metrics—including direct, in-product, and end-user survey results—to enable users to identify actionable insights into the end-user experience.
---
Expert Insights Section
---
Watch this space each week as the Solutions Review editors will use it to share new articles from the Contributed Content Series, Contributed Shorts videos, Expert Roundtable videos, event replays, and other curated content to help you gain a forward-thinking analysis and remain on-trend with changing industry expectations. All to meet the demand for what its editors do best: bring industry experts together to publish the web's leading insights for enterprise technology practitioners.
---
The editors at Solutions Review, in partnership with Cloudfresh, have analyzed The Anatomy of Work Global Index from Asana to highlight some of the most important reasons companies should invest in workplace collaboration. These include improving efficiency, better employee engagement, and being more equipped to handle emerging roadblocks.
---
As part of Solutions Review's Contributed Content Series, Sara Zenner, Hyland's Senior Product Marketing Manager, explains how low-code technologies can help companies address shrinking IT teams. In her article, Zenner defines relevant tools like low-code platforms, rapid application development, workflow automation, reporting tools, and others.
---
For consideration in future WorkTech news round-ups, send your announcements to wjepma@solutionsreview.com.
---
Latest posts by William Jepma
(see all)