Top WorkTech News From the Week of August 4th: Updates from Celonis, Priority, Creatio, and More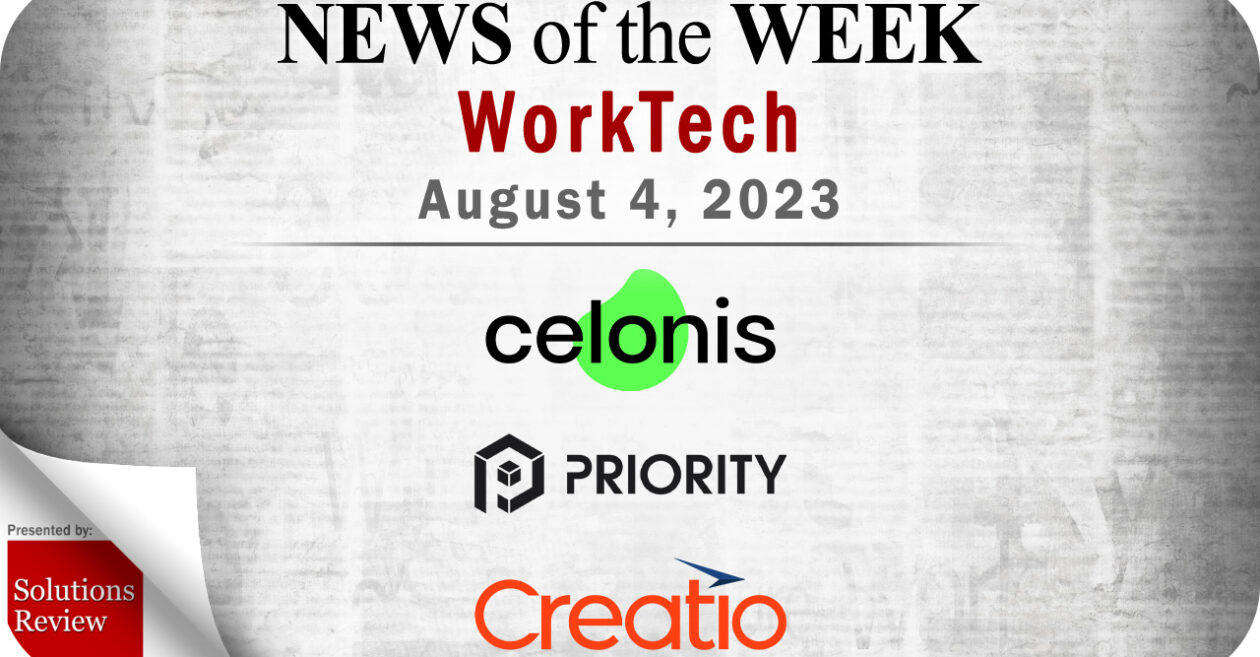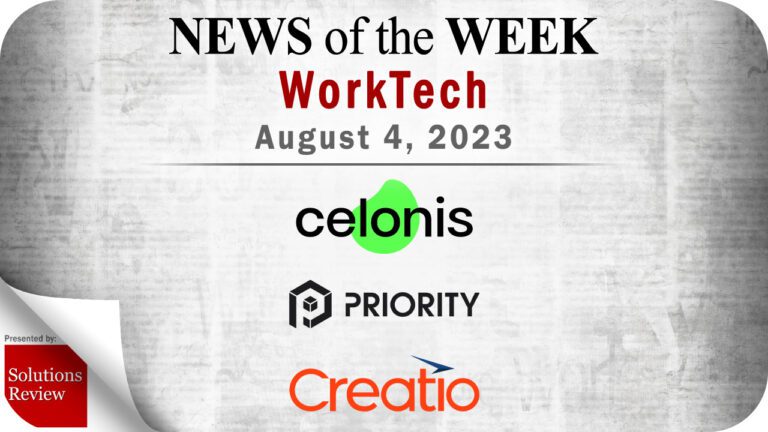 The editors at Solutions Review have curated this list of the most noteworthy WorkTech news from the week of August 4th. This round-up covers announcements and updates from companies like Celonis, Priority, Creatio, and more.
Keeping tabs on the most relevant ERP and BPM news can be time-consuming. As a result, our editorial team aims to summarize the week's top headlines in the enterprise technology marketplace. The Solutions Review editors will compile a weekly round-up of vendor product news, mergers and acquisitions, venture capital funding, talent acquisition, and other noteworthy WorkTech information. With that in mind, here is some of the top WorkTech news for August 4th.
Top WorkTech News From the Week of August 4th, 2023
---
Capco, a global technology consultancy, and Celonis, a process mining solution provider, have announced a new mortgage pipeline management product. The solution leverages Capco's housing finance advisory expertise alongside the Celonis Execution Management System to help lenders manage their loan operation processes end-to-end, improve client experiences, generate actionable insights on critical data, track performance, identify best practices, manage KPIs, and monitor their risk and compliance targets.
---
Creatio has announced a new partnership with Sprint Reply IT to provide businesses in Italy with the hyperautomation capabilities they need to respond to customer needs and drive business growth. The partnership will enable Sprint Reply IT—the Reply group company specializing in hyperautomation—to provide its customers with Creatio's no-code composable platform, equipping them with the sales, marketing, service, and no-code platform capabilities necessary to stay successful.
---
Datadog—a monitoring and security platform for cloud applications—has announced Intelligent Test Runner, a new product designed to help developers save time and reduce failures in their organization's CI/CD pipelines. The tool works by automatically selecting and running tests relevant to changes being made to the code, eliminating the need to run the entire test suite, maximizing developer productivity, reducing CI costs, improving reliability, and optimizing CI pipeline execution times.
---
Kinaxis, a supply chain management solution provider, has appointed three new C-suite leaders, all promoted internally from within the company. These appointments include Andrew Bell as Chief Product Officer, where he will oversee the company's engineering, development, and product management teams; Megan Paterson will serve in a new chief operating officer role and will be responsible for Kinaxis' cloud services, operations, corporate IT, corporate strategy, HR, and global real estate; and Amber Pate, former VP of human resources, to Chief Human Resources Officer.
---
Priority Technology Holdings, a unified commerce platform provider, has completed its acquisition of Plastiq, a bill pay and working capital platform. The acquisition will allow Priority to combine its payment and banking solutions with Plastiq's platform, enabling clients to make more money with every business expense. Thomas Priore, Chairman and CEO of Priority, says, "Our combined B2B offering will provide businesses of all sizes a full suite of working capital solutions that optimize their important vendor relationships while maximizing cash flow flexibility to operate and grow their business."
---
Expert Insights Section
---
Watch this space each week as the Solutions Review editors will use it to share new articles from the Contributed Content Series, Contributed Shorts videos, Expert Roundtable videos, event replays, and other curated content to help you gain a forward-thinking analysis and remain on-trend with changing industry expectations. All to meet the demand for what its editors do best: bring industry experts together to publish the web's leading insights for enterprise technology practitioners.
---
As part of Solutions Review's Contributed Content Series, Kelly Vincent, the VP of Mid-Market Small Business at Intuit QuickBooks, outlines how artificial intelligence (AI) technology can help growing businesses scale their growth, streamline their financial operations, automate "low-level" tasks, and improve company-wide communications.
---
As part of Solutions Review's Contributed Content Series, Aashish Chandarana, the CIO of Productiv, highlights how companies can remove some of the stress in purchasing and renewing SaaS licenses. Those ways include understanding the SaaS you have, identifying what licenses are used the most, rightsizing your portfolio, and more.
---
As part of Solutions Review's Contributed Content Series, Paul Phillips, the Chief Technology Officer at Eptura, outlines the value of using digital twins in workforce management and optimization efforts. Additionally, Phillips' article identifies several ways digital twins can optimize workplace, lease, move, and asset management efforts.
---
For consideration in future WorkTech news round-ups, send your announcements to wjepma@solutionsreview.com.
---
Latest posts by William Jepma
(see all)