What's Changed: 2023 Magic Quadrant for Manufacturing Execution Systems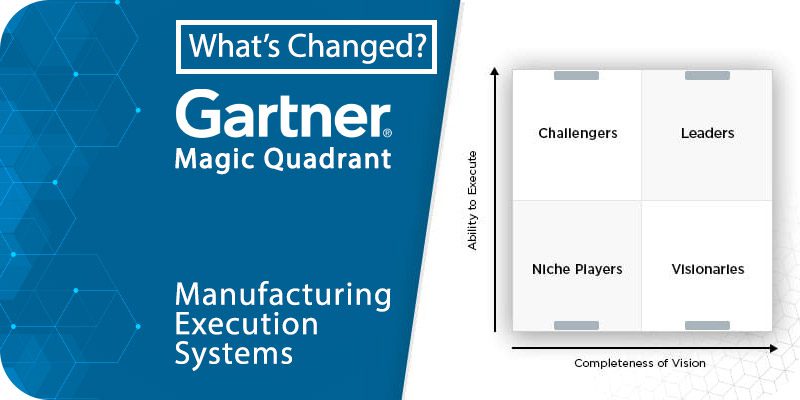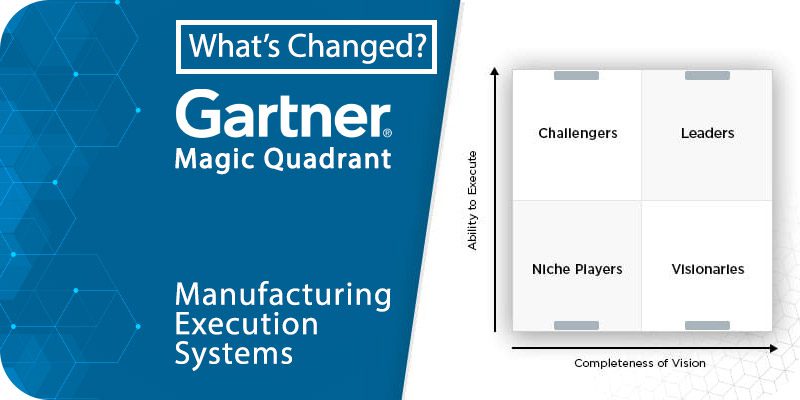 The editors at Solutions Review have highlighted the updates in the 2023 edition of Gartner's Magic Quadrant for Manufacturing Execution Systems and summarized the findings.
Analyst house Gartner Inc. recently released the 2023 version of its Gartner Magic Quadrant for Manufacturing Execution Systems. According to Gartner, a manufacturing execution system (MES) is designed to help businesses "manage, monitor and synchronize the execution of real-time, physical processes involved in transforming raw materials into intermediate and/or finished goods. They coordinate this execution of work orders with production scheduling and enterprise-level systems." You can find Solutions Review's rundown of last year's Magic Quadrant for Manufacturing Execution Systems here.
The core capabilities of a manufacturing execution system include production management, in-process quality monitoring, manufacturing data management, tracking tools, procedural enforcement, dispatching tools, operational data stores, manufacturing-related quality management processes, integrated analytics, and additional integration capabilities for various production equipment, engineering, and enterprise systems.
What's Changed: 2023 Magic Quadrant for Manufacturing Execution Systems
---
In this updated Magic Quadrant, Gartner identifies eighteen of the most significant Manufacturing Execution System providers in the marketplace. The researchers behind the report—Rick Franzosa and Christian Hestermann—evaluated the strengths and weaknesses of each provider listed and ranked them on the signature "Magic Quadrant" graph, which provides readers with an illustration of each vendor's ability to execute their vision. The diagram includes four quadrants: leaders, challengers, niche players, and visionaries.
A breakdown of each category and the companies associated with it is below.
Leaders
Critical Manufacturing kicks off the Leaders category with an MES focusing on discrete manufacturing sectors. Its clients are across the electronics, medical device, semiconductor, and repetitive flow/batch industries in the North American, EMEA, and Asia/Pacific (APAC) regions. Its strengths as an MES vendor include its extensive data management capabilities, growing partner and SI ecosystem, high customer satisfaction scores, a growth rate exceeding most MES marketplace vendors, and the rollout of industry templates that simplify deployments and system upgrades.
Körber retains its placement in the category with its Werum PAS-X product, which is focused on global companies in the life science manufacturing vertical, emphasizing the pharmaceuticals and biotech markets. Its strengths include its pharmaceutical business sector expertise, its product's ability to support that sector, and its collection of implementation and software training services. Gartner also spotlights the company's recent innovations, including the addition of a no-code master batch record (MBR) designer with a drag-and-drop capability and an "integrated process model" (IPM) to reduce the number of experiments in the process development phase.
GE Digital provides clients in the consumer, automotive, and chemical industries with its Proficy Smart Factory (MES) product, which offers discrete, process, and repetitive flow/batch manufacturing capabilities. As part of the breakup of GE, GE Digital and GE's energy businesses were combined to become GE Vernova, which remains committed to the manufacturing operations side of GE's business. Strengths as an MES vendor include its embrace of new microservices technologies to meld MES and IIoT capabilities, its support for multiple manufacturing modes from a single application, and its ongoing investment in sales and service resources.
iTAC has moved from Visionary to Leader in this report. It provides companies in the automotive and electronics industries with a solution suite tailored to high-volume, repetitive flow discrete manufacturing. Its strengths include its embedded transport management capabilities, standardized user interface (UI), and a vertical-specific strategy consisting of an integration between iTAC and its parent company, the Dürr Group, which helps develop UI enhancements and improves equipment connecting.
Siemens Digital Industries Software's MES offering is the Opcenter Execution product suite, which provides companies worldwide with tools for discrete manufacturing and process manufacturing and specific solutions for electronics, medical devices and diagnostics, pharmaceuticals, and semiconductor markets. Its standout features include a standardized user interface, a growing supply chain strategy, and its product roadmap, providing cloud-ready, easy-to-configure/extend solutions comprising modules that can be configured or extended to meet customer requirements.
Rockwell Automation rounds out the category with FactoryTalk and Plex MES, two offerings for different manufacturing verticals. FactoryTalk is a customizable solution focusing on high-volume manufacturing, with specific application modules tailored to auto OEM, tire, consumer goods, and pharmaceuticals. Meanwhile, the Plex MES—which used to be a Leader in prior reports before its acquisition by Rockwell—is primarily used by discrete and batch/process manufacturers across the automotive, industrial, and food and beverage industries. Other strengths include the options in its product portfolio and its go-to-market strategy.
Challengers
Parsec Automation retains its Challenger status with the TrakSYS solution, known for its robust data collection, monitoring, and reporting capabilities. Its notable qualities include its product migration to the .NET core and its offering of container-native cloud MES, edge MES, and hybrid MES in its TrakSYS product line. While Parsec is one of the smallest MES providers listed in Gartner's report, it's one of the only vendors researched at least ten percent of its customers headquartered in the four global regions, reflecting its commitment to global implementation and channel partners for enterprise deployment.
Tulip provides North American and EMEA companies in the general discrete, specialty chemical, life sciences, and medical devices industries with a cloud-based platform outfitted with no-code and low-code capabilities. The company's platform is one of the most composable solutions for MES in the marketplace. It benefits from Tulip's well-regarded product equipment integrations, global delivery capacities, relatively inexpensive edge devices, and its partner resources.
Dassault Systèmes offers several MES offerings to companies of different sizes. These include DELMIA Apriso, which focuses on larger enterprises that require a highly configurable MES environment; DELMIAWorks, an ERP and MES combination aimed at the small and midsize business (SMB) market; and 3DEXPERIENCE Production Execution, a cloud/SaaS MES offering that effectively offers a scaled back version of DELMIA Apriso. Strengths include its persuasive name recognition and market recognition, high configurability across discrete manufacturing and batch/repetitive flow manufacturing disciplines, and a marketing strategy that benefits from the company's ongoing acquisitions.
Aegis Software is one of the new vendors added to this year's report. Its MES solution, FactoryLogix, is designed to map manufacturing information to intelligent design data and provide users with shop floor visual aids, quality data collection tools, and analytics capabilities. Its defining features include its vertical industry strategy, emphasizing its success in the electronics industry, a highly-ranked customer experience, and its product features, including an "automate-to-order" function and a native 3D computer-aided design (CAD) backbone.
Visionaries
iBASEt is the solution provider for Solumina, an MES product that focuses on complex, discrete assembly in regulated industries. Its clients are primarily large aerospace and defense (A&D) manufacturers and suppliers. Notable strengths include its preconfigured solutions for complex manufacturing scenarios, customer adoption rates, ongoing collaborations with global SIs and resellers, and its track record of providing MES functionalities targeted to specific industry verticals.
AVEVA lands in the Visionary category for this year's report. Its MES focuses on process and batch manufacturing alongside the food and beverage industry. Gartner spotlights its positioning in the food and beverage industry as a prominent strength, alongside its collaborative partnerships and the manufacturing data management and analytics functionalities it offers via its cloud-based solutions.
Apprentice.io's platform is specifically designed to support the drug production life cycle in life sciences (LS), from preclinical process development, through clinical testing, to commercial batches. Its MES solution is part of the Tempo Manufacturing Cloud, the company's overall LS manufacturing platform. The company's differentiating features include its multienterprise MES capability to manage detailed manufacturing processes and host multiple sites on a consolidated (logically single instance) system.
Applied Materials is the other new vendor included in this year's report. Its MES applications are part of its Applied Global Services (AGS) organization, and it supplies manufacturing solutions in semiconductors, flat-panel displays, solar, and medical devices. Notable features include "deep domain expertise" in its coverage area, product scope, and a suite of capabilities, including manufacturing execution, process quality, factory productivity, and MOM extensions like supply chain planning and simulation.
SAP is the next Visionary profiled in the report. Gartner reviewed its new public cloud application, SAP Digital Manufacturing DM (formerly DMC), which isn't an evolution of SAP Manufacturing Execution (ME) but a newly developed product. Gartner identified its strengths as its edge capabilities (based on Microsoft Azure Stack Edge), in-depth go-to-market strategy,  market understanding, and a hybrid MES architecture that supports process, batch, and discrete manufacturing.
Honeywell closes out the Visionary category with an MES product line focusing on continuous process and batch manufacturing. It works with clients across the process industries (oil and gas, chemicals, mining and metals, life sciences, and pulp and paper). Strengths include its "persona-based" approach to UI/UX development, its continued industry focuses, an "API-first" methodology in its software development criteria for upgrading its portfolio, and its introduction of new capabilities, including no-code/low-code template libraries, process order and creation, batch visualization, inventory management, analytics, and reporting.
Niche Players
Oracle's Fusion Cloud Manufacturing is a Niche Player in Gartner's report. Its solution is a public-cloud-based solution geared toward discrete and process manufacturing industries, with an additional focus on high tech, consumer packaged goods, and industrial manufacturing. Its strengths as an MES vendor include its extensive global presence, an ecosystem of over seventy-five partners, its integration potential with other products in Oracle's cloud portfolio, and capabilities like revision control, operator skills qualifications, and more.
Sepasoft rounds out Gartner's 2023 Magic Quadrant for Manufacturing report with a solution built on the Ignition platform, which comes from Inductive Automation. Its notable characteristics include a per-server pricing model, which is rare in the marketplace, and its ability to integrate production equipment down to individual PLC commands. Other strengths include its Quick Start Program (QSP) for new customers, backed by design consultants that can help integrators and end customers.
---
Latest posts by William Jepma
(see all)