What's Changed: 2023 Gartner Magic Quadrant for Transportation Management Systems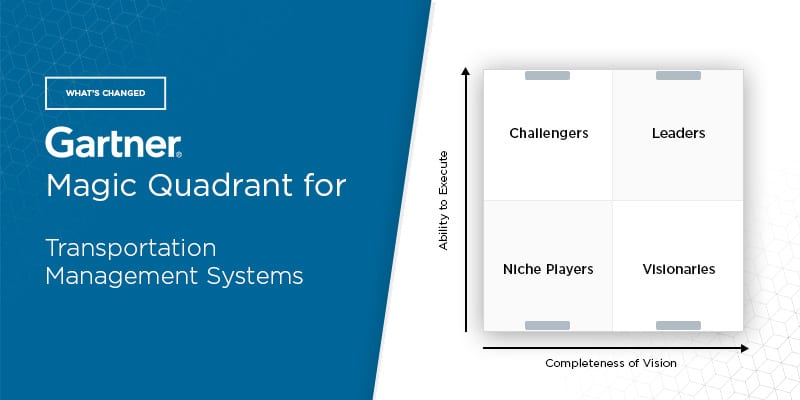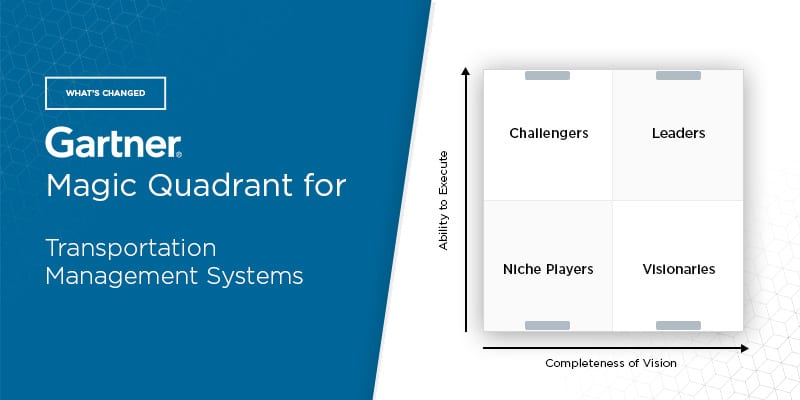 The editors at Solutions Review highlight what's changed in the 2023 iteration of the Gartner Magic Quadrant for Transportation Management Systems (TMS) and analyze the new report.
Gartner has recently released the 2023 version of its Gartner Magic Quadrant for Transportation Management Systems. According to Gartner, Transportation Management Systems (TMS) is a category of systems designed to "manage increasing levels of transportation complexity across multiple transport modes and geographic regions." They also help businesses manage supply chains, mitigate risks, address disruptions, and streamline the processes of moving goods through a supply chain.
The core capabilities of a TMS software suite include strategic freight sourcing, procurement, transportation execution, planning, carrier communication tools, visibility, event management, performance management analytics, and settlement features. The report also lists the expanded capabilities that some solutions offer. These secondary features include appointment and dock scheduling, parcel optimization and manifesting, vehicle routing, transportation forecasting, scheduling tools, 3D load building, and transportation modeling.
What's Changed: 2023 Gartner Magic Quadrant for Transportation Management Systems
---
Gartner identifies 15 of the most effective Transportation Management Systems (TMS) in the marketplace in this Magic Quadrant. The researchers behind the report—Brock Johns, Oscar Sanchez Duran, and Carly West—evaluated the strengths and weaknesses of each provider listed and ranked them on the signature "Magic Quadrant" graph, which provides readers with an illustration of each vendor's ability to execute their vision. The diagram includes four quadrants: leaders, challengers, niche players, and visionaries.
As the TMS market evolves, Gartner adjusts its criteria to evaluate providers, which means the vendors listed on this year's report are slightly different from last year. For example, Trimble (Kuebix) was dropped as its solution was retired, while One Network Enterprises was added as it met this year's Magic Quadrant inclusion criteria. A breakdown of each category and the companies associated with it is below.
Leaders
Oracle is once again the headlining leader in this Magic Quadrant. Its TMS, Oracle Fusion Cloud Transportation Management, focuses on transportation management alongside its broader logistics solutions covering warehouse management, global trade management, and intelligence technologies. Its strengths as a TMS vendor include its in-depth market understanding, brand recognition, marketing execution, and a large ecosystem of partnerships with systems integrators, implementation partners, complementary software vendors, and more.
Blue Yonder is next in the category with Blue Yonder TMS, a solution included in the company's suite of supply chain execution capabilities. Its transportation management features include labor management, logistics networks, modeling, and warehouse management. Like Oracle, Blue Yonder differentiates itself with its understanding of market trends and TMS buyers, its suite of professional and implementation services, a growing collection of implementation partnerships, and its multi-channel marketing execution strategies.
SAP's TMS solution, SAP Transportation Management (TM), provides larger enterprises worldwide and across industries with freight procurement optimization, transportation planning, freight settlement, and transportation execution capabilities. Additionally, the company is expanding the SAP Logistics Business Network with new partners and offerings. Its strengths include its global solution integrations, partner ecosystem, the global reach of its brand, and market understanding, as demonstrated by its release of SAP TM as a public cloud solution embedded in the S/4HANA cloud platform after customer interest.
Manhattan Associates provides its clients with end-to-end transportation management capabilities in its broader Manhattan Active Supply Chain Suite, which covers additional use cases like warehouse management, yard management, and labor management. Gartner's report spotlights the company's consistent brand narrative, understanding of market trends, microservice product architecture, and continued investment in its product capabilities as Manhattan Associates' defining strengths.
E2open has moved up into the Leaders category this year with its TMS. Its product focuses on end-to-end transportation management that's also part of a logistics suite that covers vehicle routing, scheduling, transportation forecasting, and global logistics orchestration capabilities. Its strengths include its dedicated sales resources, a network of partnerships that enable broader sales channel strategies, and its strong alignment with trends in the TMS marketplace. Gartner also notes that E2open had one of the highest year-over-year growth rates among other vendors in the report.
Challengers
MercuryGate is once again in the Challenger category for this year's report. Its MercuryGate TMS solution focuses on providing clients with domestic and international functionality, partnerships with digital freight models, and real-time pricing capacity. Most of its clientele are companies of all sizes in the 3PL, carrier, and brokerage sectors. Its strengths in the field include its highly rated customer experience, extensive capabilities suite, and a diverse customer base spanning multiple segments and industries.
Alpega Group's TMS is broadly focused on supply chain operations by providing a portfolio of solutions companies can use to improve supply chain execution and digitization efforts. The company's operations are geographically diverse, but most customers are based in Europe and operate in the retail, automotive, manufacturing, and consumer goods industries. Gartner spotlights its sales organization strategy, product roadmap delivery, and growing customer base as differentiators in the TMS market.
Uber Freight is a Challenger in this report after acquiring Transplace and its TMS in 2021. Its TMS product provides self-service transportation management technology to shippers alongside a fully managed transportation option for small to midsize organizations. The vendor differentiates itself in the marketplace with its marketing execution, the capabilities its acquisition of Transplace equipped it with, and its real-time transportation visibility, performance management, and analytics capabilities.
Shipwell's solution offers all the core capabilities Gartner says a TMS should have alongside additional capabilities like load optimization, analytics, transportation RFP, an integrated carrier network, and real-time visibility. The company operates in North America primarily, working with small and midsize businesses in the retail, consumer packaged goods (CPG), manufacturing, and food and beverage industries. Strengths include its high customer satisfaction scores, robust product roadmap, an above-average R&D budget, and a suite of TMS features.
C.H. Robinson (TMC) rounds out the category with Navisphere TMS, an end-to-end transportation management offering. It also offers Navisphere Vision, a real-time visibility platform that can be used as a standalone solution or alongside Navisphere TMS. Its strengths as a TMS vendor include its demonstrated track record of delivering on business outcome-based objectives, its commitment to growing its geographic presence, internal implementation resources, and TMS capabilities.
Niche Players
BlueRock TMS provides logistics service providers, pharmaceuticals, industrial manufacturing, and fashion companies with transportation management capabilities like shipment execution, operation planning, and network optimization. While the company's brand awareness is limited outside of Europe, it has expanded its direct sales organization outside its home region and increased its number of sales partners. Other strengths include its extensive in-house logistics experience and focus on specific industry verticals like logistics service providers and network operators.
3Gtms is the next vendor in the category. Its solution, 3G-TM, focuses on providing transportation management to companies with multimodal capabilities for planning, executing, and tracking shipments. Its current clientele is predominantly midsized North American companies in the consumer products, food and beverage, building products, and logistics industries. Its strengths include its highly-ranked customer experience, emphasis on the TMS marketplace, and its platform's ability to accommodate the needs of shippers, third-party logistics (3PL) providers, and brokers.
RateLinx's TMS, ShipLinx, is focused on carrier compliance and primarily works with small and midsize organizations in North America. Like the other vendors in this category, RateLinx's global strategy is somewhat limited. Still, it's found success with an above-average customer retention rate, notably higher than other vendors in this year's Magic Quadrant. Additional strengths include its usability, simple interfaces, and business model, allowing businesses to use the platform in multiple use cases.
3T Logistics offers a TMS titled 3T EVENT focused on supply chain operations. It provides small to midsize organizations in manufacturing, fast-moving consumer goods (FMCG), food distribution, and aftermarket distribution with capabilities like load optimization, vehicle routing, dock scheduling, and parcel management. The vendor's differentiating traits include its broad customer base spanning multiple industries, a well-regarded customer experience, and an extensive suite of core and extended capabilities, including mobile app-like solutions.
Visionaries
One Network Enterprises is the only Visionary in this year's report. With One Network TMS, the company focuses on end-to-end transportation management alongside broader logistics and supply chain capabilities, including planning, procure-to-pay, and visibility. While Gartner notes that One Network's marketing strategy trails other vendors in the market, it earns high marks for its product alignment with the trends that influence TMS buyers, its investment toward R&D, and its above-average innovation, as seen in its use of artificial intelligence, machine learning, and predictive and prescriptive analytics.
---
Latest posts by William Jepma
(see all)