Identity Management and Information Security News for the Week of September 1; Okta, Exabeam, QuSecure, and More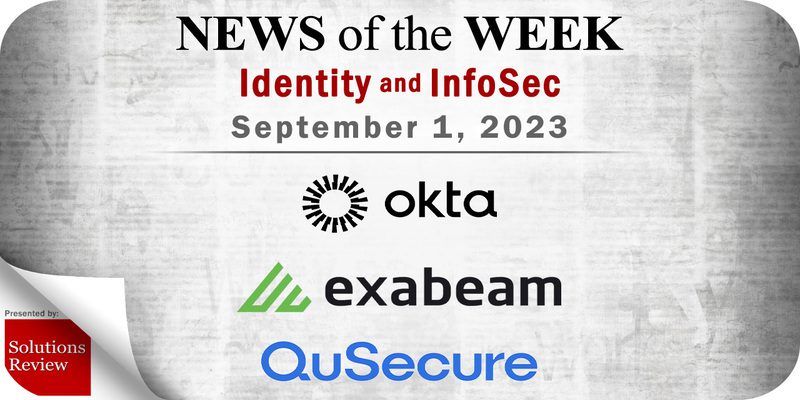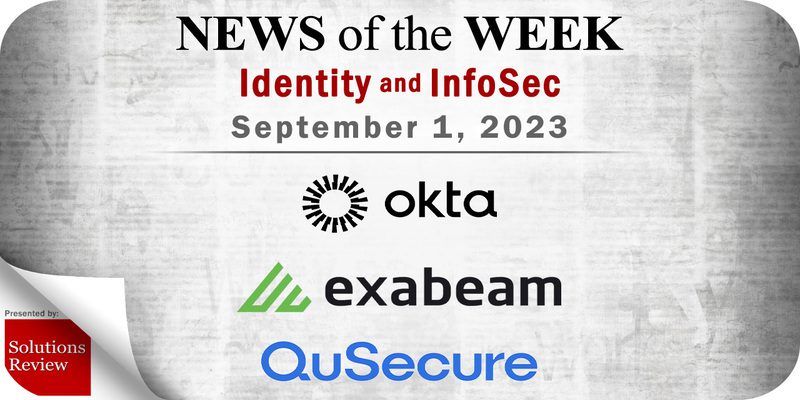 The editors at Solutions Review have curated this list of the most noteworthy identity management and information security news for the week of September 1. This curated list features identity management and information security vendors such as Okta, Exabeam, QuSecure, and more.
Keeping tabs on all the most relevant identity management and information security news can be a time-consuming task. As a result, our editorial team aims to provide a summary of the top headlines from the last month, in this space. Solutions Review editors will curate vendor product news, mergers and acquisitions, venture capital funding, talent acquisition, and other noteworthy identity management and information security news items.
Identity Management and Information Security News for the Week of September 1
---
Okta Announces Okta for Global 2000 Platform
Okta, Inc., a leading independent identity solutions provider, this week announced Okta for Global 2000, a solution designed to give the world's largest organizations choice in how they run their technology infrastructure with flexible and automated identity management. Okta for Global 2000 enables the technical agility executives need to balance centralization and decentralization of their organizations as well as resources and governance models with secure identity infrastructure.
Descope Adds Third-Party Connectors to Its No-Code Toolset
Descope, an authentication solutions provider, this week announced the availability of third-party connectors that enable app developers to create and customize entire user journeys using no-code tools. Available connectors include Google reCAPTCHA Enterprise, Traceable, Segment, HubSpot, Amazon Rekognition, Google Cloud Translation, Amazon Translate, SendGrid, Datadog, Twilio, and Amazon S3. Customers can add data and actions from connectors to their user journey flows for use cases, such as risk-based authentication, bot mitigation, localization, identity verification, and identity orchestration.
Incode and Simpello Announce Strategetic Alliance
Incode Technologies and Simpello, two data security solutions providers, announced this week a strategic alliance, integrating Incode's biometric identity proofing solutions with Simpello's patented interactive decentralization platform. This collaboration introduces frictionless data sharing with processing on the edge to hoteliers, retail, financial institutions, and others– providing data privacy and seamless user experiences.
Exabeam Partners with Google Cloud on New Generative AI Features
Exabeam, a cybersecurity solutions leader, this week announced it is expanding its partnership with Google Cloud in the development of generative artificial intelligence (AI) models in its cloud-native New-Scale SIEM product portfolio. As a Google Cloud partner, the collaborative development process on Google Cloud generative AI products will accelerate the design of AI-based security product enhancements for Exabeam.
Laminar Expands Data Security Platform with Support for Microsoft OneDrive and Google Drive
Laminar, a data security solutions provider, recently acquired by Rubrik, this week announced that it has added support for Microsoft OneDrive and Google Drive. Customers can now use Laminar to continually discover overexposed and unprotected sensitive data in OneDrive and Google Drive, enabling proactive risk remediation and data leak detection. With this expanded support, organizations can safeguard sensitive data across their entire digital landscape, including major cloud service providers Amazon Web Services (AWS), Google Cloud Platform (GCP), and Microsoft Azure as well as Snowflake, BigQuery, and other SaaS applications.
QuSecure Named Showcase Winner by Air Force Global Strike Command and the SBCC
QuSecure, Inc., a leader in post-quantum cryptography (PQC), this week announced it has been named a winner in the annual Commercial Capabilities Showcase award competition by the Air Force Global Strike Command (AFGSC) and the Small Business Consulting Corporation (SBCC). Earning recognition and a signed Phase I Letter of Support from the AFGSC, the win gives QuSecure a competitive advantage for future business, including important Department of Defense (DoD) contracts and Small Business Innovation Research (SBIR) opportunities. Additionally, the award grants QuSecure access to strategic networking consultations with SBCC and relevant government stakeholders across the DoD. SBCC's continued support will help QuSecure get its technology in the hands of the operators as well as navigate requirements, contracts, government acquisitions, and operations to help align all the critical players and find continued success in the defense market.
---
Expert Insights Section
Watch this space each week as Solutions Review editors will use it to share new Contributed Content Series articles, Contributed Shorts videos, Expert Roundtable and event replays, and other curated content to help you gain a forward-thinking analysis and remain on-trend. All to meet the demand for what its editors do best: bring industry thought leaders together to publish the web's leading insights for enterprise technology practitioners.
The Battle for Cyber Talent: A Balance Between Quantity and Quality
Jon Check of Raytheon, an RTX Business, charges into the battle for cyber talent while pushing for a balance between quality and quantity. The cybersecurity industry faces a daunting challenge in the battle for talent. With the increasingly complex threat landscape, the demand for advanced security solutions is higher than ever. To meet this challenge, we need a workforce with a broad range of skills and expertise. However, simply focusing on volume alone will not solve the problem. As an industry, we must reflect on whether we are doing everything possible to achieve the right balance of quantity and quality in our workforce. This requires looking beyond traditional cybersecurity resumes for new talent, supporting education and training programs, and creating positive work environments. By doing so, we can develop a quality cyber workforce critical to fighting today's threat actors.
ChatGPT, LLMs, and the Future of Cybersecurity
Karthik Krishnan of Concentric AI looks to ChatGPT and LLMs, and sees the future of cybersecurity in them. Artificial intelligence (AI) has achieved remarkable advancements over the past few years, with examples such as ChatGPT dominating recent headlines. Similarly, large language models (LLMs) are emerging as game-changing innovations. LLMs like GPT 3.5 and GPT 4 have demonstrated an unprecedented ability to understand and generate human-like text, opening up new possibilities for every type of industry. In the tech news cycle, AI is everywhere. But AI in cybersecurity is a little different. It is important to understand the critical need for innovative solutions to protect digital assets and infrastructures— especially as cyber threats become increasingly pervasive and sophisticated. In fact, large language models may just represent the future of cybersecurity.
AI-Based Red Teaming: Why Enterprises Need to Practice Now
Brette Geary of Camelot Secure urges enterprises to incorporate AI-based red teaming into their strategy now. In the dynamically changing world of cybersecurity, no one can afford to become complacent. As tech professionals, we understand this constant flux, watching as adversarial actors continually adapt their strategies and tools. We are stepping into an era where artificial intelligence (AI) is no longer a futuristic concept, but an active player in the cybersecurity landscape. This article aims to shed light on a significant aspect of AI in cybersecurity– its role in red team exercises. In this article, we'll explore why investing and integrating AI into red team operations should be a crucial part of any cybersecurity company's strategic radar, and how this integration can help organizations stay one step ahead of ever-evolving threats.
Latest posts by Mike Costello
(see all)