Endpoint Security and Network Monitoring News for the Week of September 1; Infovista, Fianu Labs, the FBI, and More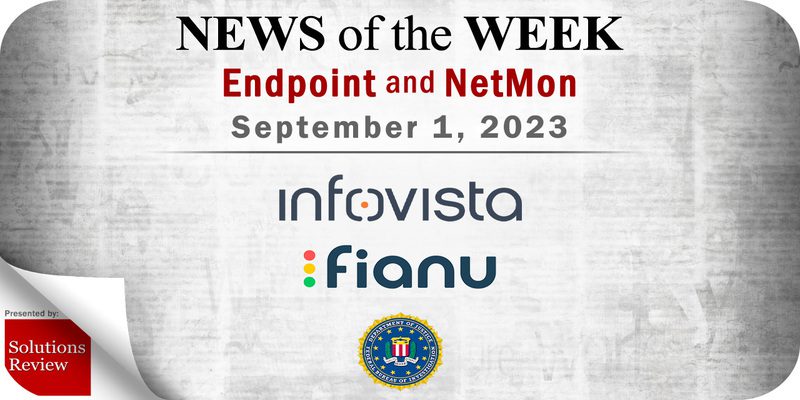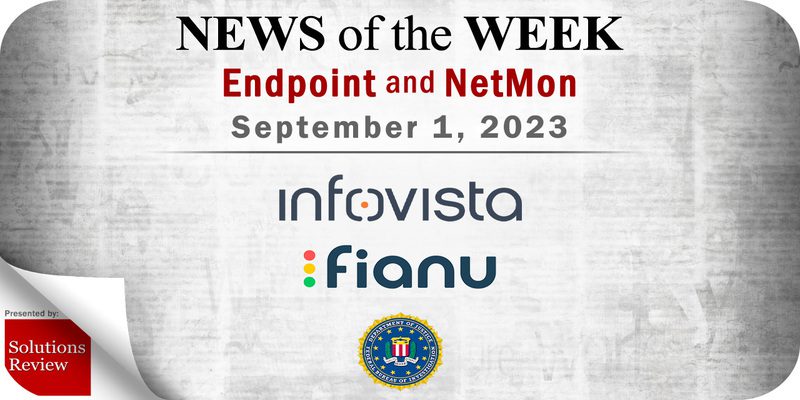 The editors at Solutions Review have curated this list of the most noteworthy endpoint security and network monitoring news for the week of September 1. This curated list features endpoint security and network monitoring vendors such as Infovista, Fianu Labs, the FBI, and more.
Keeping tabs on all the most relevant endpoint security and network monitoring news can be a time-consuming task. As a result, our editorial team aims to provide a summary of the top headlines from the last month in this space. Solutions Review editors will curate vendor product news, mergers and acquisitions, venture capital funding, talent acquisition, and other noteworthy endpoint security and network monitoring news items.
Endpoint Security and Network Monitoring News for the Week of September 1
---
Infovista and BT Proof-of-Concept Aims to Reduce Troubleshooting Time
Infovista, a global leader in network lifecycle automation, has announced a collaborative effort with BT on a proof of concept aimed at developing a new automated Root-Cause Analysis (RCA) use case for its fixed voice services. The use case, which will be showcased for the first time at TM Forum's DTW23, demonstrates how CSPs such as BT can realize substantial operational efficiencies. Infovista predicts that the technology will be able to reduce resolution times for CSPs by more than two-thirds allowing for enhanced customer satisfaction.
NordVPN Launches NordLabs to Encourage Innovation in Experimental Technologies
NordVPN, a VPN solutions provider, launches NordLabs – a platform for experimental projects and cutting-edge innovations. It will explore emerging technologies, such as AI, to create new tools and services. NordLabs will work in two main directions. First, it will provide a broader space for NordVPN's team of engineers and developers to experiment with new ideas and emerging technologies and encourage creative thinking to explore novel approaches to online privacy and security. Secondly, the platform will allow early adopters and tech enthusiasts to gain exclusive access to innovative projects before they become mainstream. To access upcoming NordLabs experimental projects, users must register on the waiting list. Once new experimental projects are released, registered users can test and provide feedback on features and services developed by NordVPN. Signed up users can expect the first products to test in September.
Fianu Labs Secures $2 Million in Seed Funding from DataTribe
Fianu Labs, a software governance automation solutions provider, this week secured a $2 million seed investment from DataTribe, a global cyber foundry that invests in and co-builds next-generation cybersecurity and data science companies. Fianu's platform captures evidence across the DevSecOps toolchain mapped to internal policy during real-time, continuous audits against established risk controls and compliance frameworks. Each software release is accompanied by a Software Bill of Attestations (SBOA) designed to transmit immutable, audit-worthy evidence.
U.S. Army Selects BackBox to Automate Multi-Vendor Network Environment
BackBox, a network automation solutions provider, this week announced the U.S. Army has selected BackBox's Network Automation Platform to automate Defense Information Systems Agency (DISA) Security Technical Implementation Guides (STIGs) compliance of their multivendor network environment. BackBox integrates with all major network monitoring platforms and has added new features to enable customers to easily migrate to BackBox.
Aqua Security Threat Alert: "Kinsing Malware Exploits Novel Openfire Vulnerability"
Aqua Nautilus discovered a new campaign that exploits the Openfire vulnerability (CVE-2023-32315), that was disclosed in May of this year, to deploy Kinsing malware and a cryptominer. This vulnerability leads to a path traversal attack, which grants an unauthenticated user access to the Openfire setup environment. This then allows the threat actor to create a new admin user and upload malicious plugins. Eventually the attacker can gain full control over the server. In this blog, we explain the vulnerability, Kinsing's campaign, and quantify the extent of instances potentially exposed to this specific vulnerability.
FBI and Partners Dismantle Qakbot Infrastructure in Multinational Cyber Takedown
This week, the FBI and the Justice Department announced a multinational operation to disrupt and dismantle the malware and botnet known as Qakbot. The action, which took place in the U.S., France, Germany, the Netherlands, Romania, Latvia, and the United Kingdom, represents one of the largest U.S.-led disruptions of a botnet infrastructure used by cybercriminals to commit ransomware, financial fraud, and other cyber-enabled criminal activity.
---
Expert Insights Section
Watch this space each week as Solutions Review editors will use it to share new Contributed Content Series articles, Contributed Shorts videos, Expert Roundtable and event replays, and other curated content to help you gain a forward-thinking analysis and remain on-trend. All to meet the demand for what its editors do best: bring industry thought leaders together to publish the web's leading insights for enterprise technology practitioners.
Finding Business Value in the Vast Sea of Threat Intelligence
Delilah Schwartz of Cybersixgill crosses over the vast sea of threat intelligence, in search of added value by combining the right tools. The continued acceleration of highly sophisticated cyber-attacks impacts countless organizations, their brand's reputation, and their bottom line. This situation puts growing pressure on security leaders to effectively and successfully reduce organizational threat exposure across a rapidly proliferating attack surface. Without the means to identify the threats that pose the most significant risk to their organizations, security teams continue to fight cyber warfare like playing a game of whack-a-mole, addressing issues as they occur without successfully getting ahead of malicious actors. Cyber threat intelligence plays a vital role in cyber warfare and is no longer a "nice-to-have" but a "need-to-have" weapon. With the right intelligence tools, teams can derive critical insights into the emerging tactics, techniques, vectors, and procedures that could expose their network to attack. But selecting the right threat intelligence products and services to maximize business value is not easy.
Home Grown: How to Fill the Cybersecurity Talent Gap from the Inside
Pieter Danhieux of Secure Code Warrior discusses how filling the cybersecurity talent gap starts with getting everyone on board with security familiarity. The universal corporate culture still generally believes that outside hiring represents the primary way to fill in talent gaps. However, given the mounting hiring costs and the severe consequences of cyber threats, CISOs would greatly benefit from re-evaluating how they address the situation by looking within. Instead of the traditional recruitment of outside candidates, we should leverage proven, internal performers. Those performers may not be highly skilled security professionals. But by providing proper learning pathways and support, leaders can empower them to take on critical roles in cyber defense.
Latest posts by Mike Costello
(see all)