Storage and Data Protection News for the Week of September 1; Updates from Cohesity, Quantum, Rubrik & More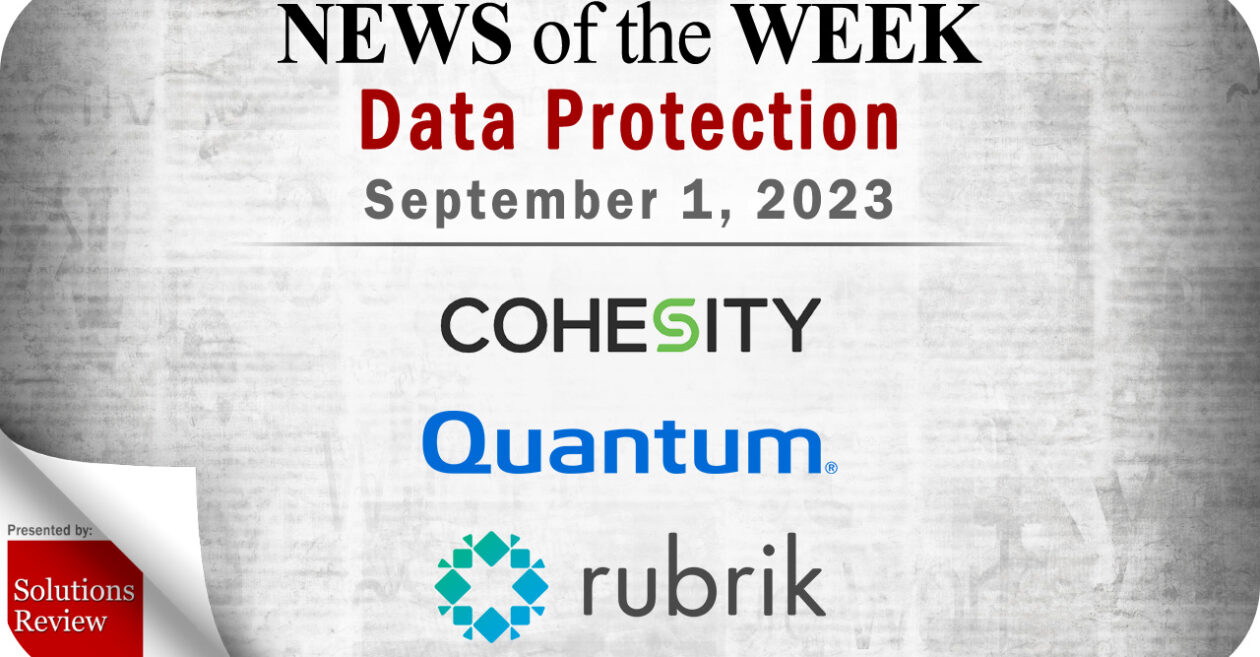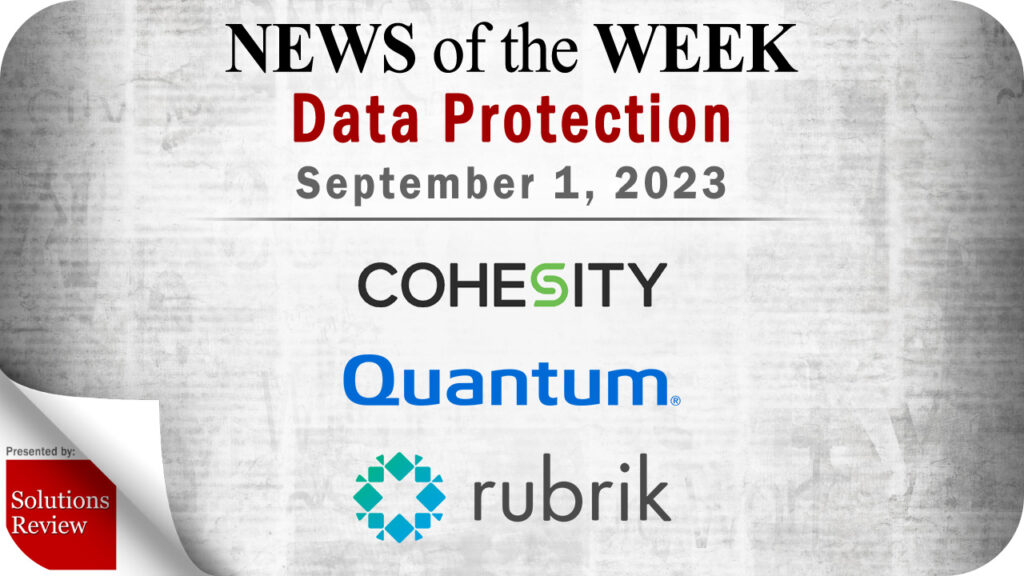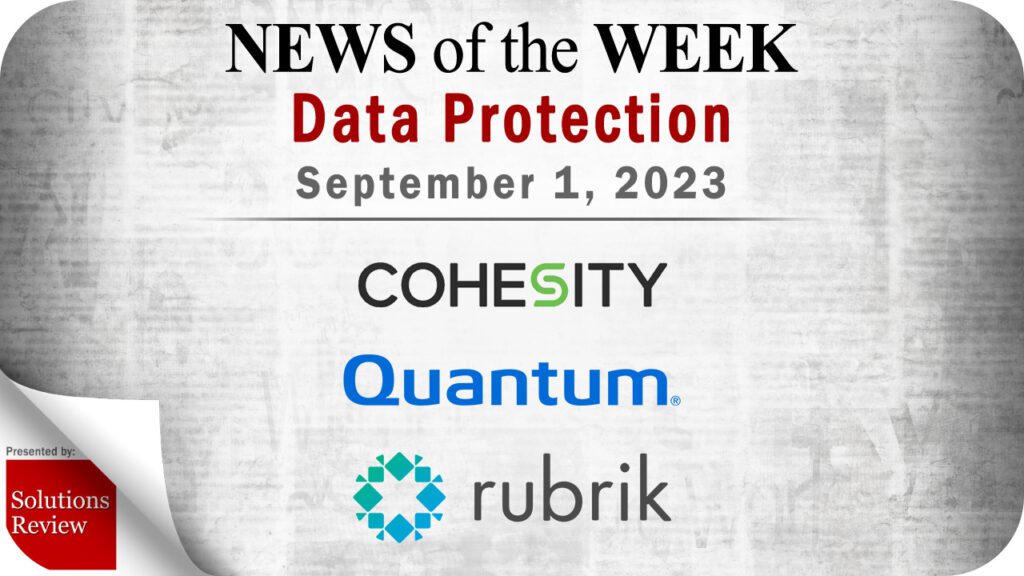 Solutions Review editors curated this list of the most noteworthy storage and data protection news items for the week of September 1, 2023.
Keeping tabs on all the most relevant storage and data protection news can be a time-consuming task. As a result, our editorial team aims to provide a summary of the top headlines from the last week, in this space. Solutions Review editors will curate vendor product news, mergers and acquisitions, venture capital funding, talent acquisition, and other noteworthy storage and data protection news items.
Top Storage and Data Protection News for the Week of September 1, 2023
Cisco & Nutanix Partner on Global Multicloud
This new partnership answers these challenges by simplifying and accelerating the delivery of infrastructure and applications at a global scale, through best-in-class cloud operating models, unparalleled flexibility, and automated resiliency with industry-leading customer support.
Cohesity Rolls Out New AI-Driven Customer Support Experience
The AI-driven Support Experience has already made a significant impact on customer support by reducing overall customer time to resolution by up to 40 percent. Cohesity's AI agents are designed to act as virtual SREs, providing customers with instant access to expert knowledge and guidance.
Fujifilm and IBM Develop World's Highest Data Storage Tape Capacity
Fujifilm has commenced production of a high-density tape cartridge for use with IBM's newest enterprise tape drive, the TS1170. The sixth-generation IBM 3592 JF tape cartridge incorporates a newly developed technology featuring fine hybrid magnetic particles to enable higher data storage capacity.
Laminar Expands Data Security Platform with Support for Microsoft OneDrive & Google Drive
The Laminar Data Security Platform takes an agnostic approach to data security; discovering, classifying, and securing sensitive data as it moves across an organization's digital environment, including collaborative cloud-based services. Laminar provides secure scanning, ensuring data is not removed from the customer environment.
New ESG Study Shows Cyber Attacks Are Rapidly Increasing Despite Mitigation
According to the report's findings, while ransomware attacks are sometimes kept private from the public, they are a common occurrence and represent both a significant and recurring source of business disruption.
NetApp & Google Cloud Unveil New Managed Storage Service
Google Cloud NetApp Volumes is based on NetApp ONTAP data management software and cloud services. Available today, the partnership enables customers to seamlessly extend their workloads into Google Cloud through an automated storage service that's fully integrated into its service ecosystem, providing enterprise-grade storage, data protection, and business continuity across workloads.
Quantum Drops New Features Across End-to-End Unstructured Data Platform
With these new features, customers can place data exactly where it's needed, when it's needed. By using a highly flexible and powerful hybrid cloud environment, customers increase operations agility, reduce business risk, and optimize costs across on-prem and public cloud resources.
Spectra Logic Releases New IBM TS1170 Drives
Spectra libraries also uniquely support the intermixing of IBM TS series, Oracle T10000 family, and LTO tape drives, providing the flexible configurability needed to ensure smooth data migrations, support capacity and technology upgrades, and deliver superior investment protection for many years to come.
Expert Insights Section
Watch this space each week as Solutions Review editors will use it to share new Expert Insights Series articles, Contributed Shorts videos, Expert Roundtable and event replays, and other curated content to help you gain a forward-thinking analysis and remain on-trend. All to meet the demand for what its editors do best: bring industry experts together to publish the web's leading insights for enterprise technology practitioners.
Solutions Review Set to Host Cloudflare for Exclusive Spotlight Webinar on September 19
With the next Solutions Spotlight event, the team at Solutions Review has partnered with network solutions provider Cloudflare. Join this webinar to understand the profound impact DDoS attacks can have on an organization's bottom line and how investing in proactive defenses can yield substantial returns.
For consideration in future storage and data protection news roundups, send your announcements to the editor: tking@solutionsreview.com.