Data Management News for the Week of September 1; Updates from Fivetran, Qlik, Talend & More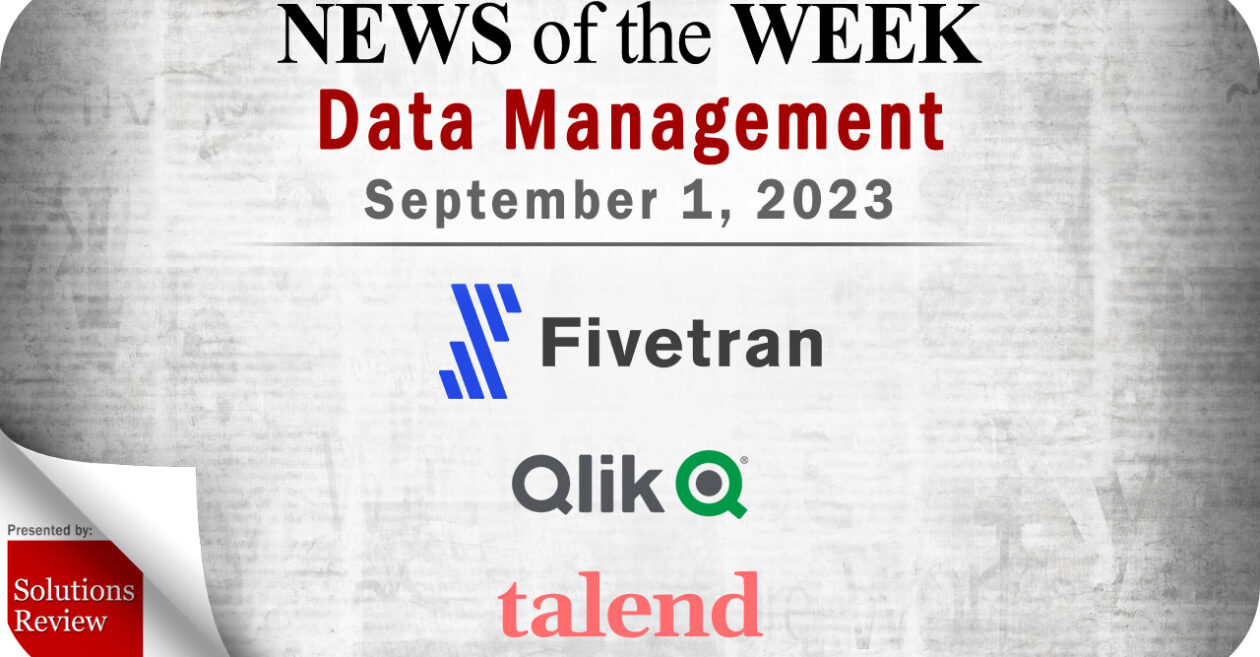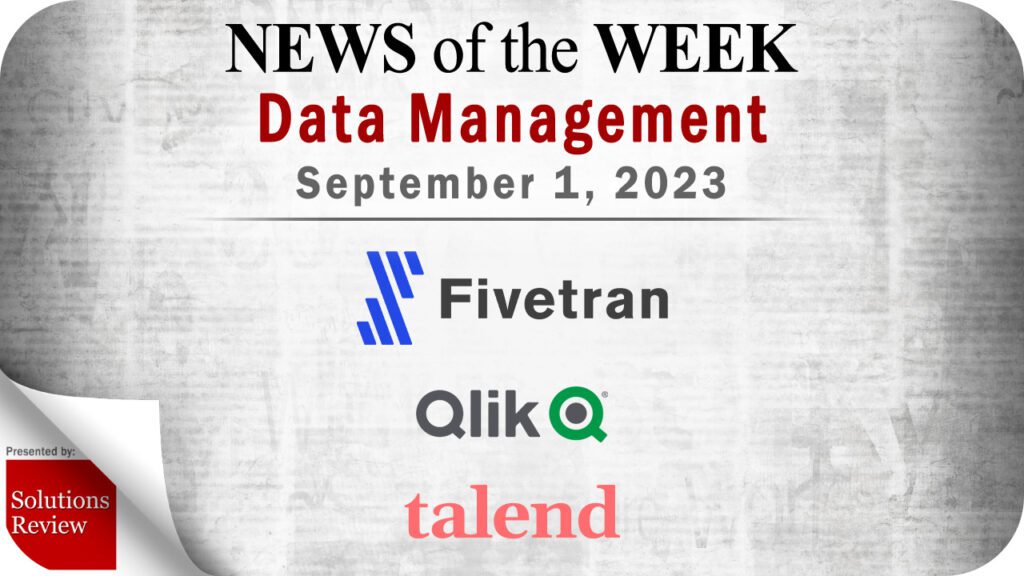 Solutions Review editors curated this list of the most noteworthy data management news items for the week of September 1, 2023.
Keeping tabs on all the most relevant big data and data management news can be a time-consuming task. As a result, our editorial team aims to provide a summary of the top headlines from the last week, in this space. Solutions Review editors will curate vendor product news, mergers and acquisitions, venture capital funding, talent acquisition, and other noteworthy big data and data management news items.
Top Data Management News for the Week Ending September 1, 2023
Aerospike Announces its Graph Database on Google Cloud
Aerospike Graph delivers millisecond multi-hop graph queries at extreme throughput across billions of vertices and trillions of connections. Benchmarks show a throughput of more than 100,000 queries per second with sub-5ms latency —on a fraction of the infrastructure.
Arcion Unveils New Product Capabilities
Arcion continues to innovate in its journey to power the next generation of AI and analytics applications with real-time enterprise data from online transaction processing (OLTP) databases like Oracle, SQL Server, DB2, Sybase, MySQL, and Postgres. Arcion's new connectors for Oracle and MySQL offer 10x more throughput, effectively utilizing the underneath scalable architecture.
Ataccama Names Mike McKee New CEO
McKee's arrival comes at a time of high growth for Ataccama. The Company continues to be recognized by top analyst organizations in the data quality, data governance and master data management domains, and is leading the market in applying groundbreaking generative AI tech to data management.
CData Software Achieves Google Cloud Ready Designation
CData provides enterprise data connectivity solutions that ingest live data from more than 250 applications, systems, and data sources directly into Cloud SQL to support analytics, reporting, and other business initiatives.
Confluent Expands Partnership with Google Cloud
Through their long-standing partnership, Confluent and Google Cloud make it easy for customers to connect and process real-time data flows throughout their entire organization to power modern applications and analytics.
Couchbase Adds Generative AI to Capella DBaaS
The new capability called Capella iQ enables developers to write SQL++ and application-level code more quickly by delivering recommended sample code. Couchbase also announced additional Capella updates that further enhance the developer experience, increase efficiency, and ease operations.
Dataddo Recognized as Google Cloud Ready Partner
Dataddo's ETL, ELT, and reverse ETL capabilities, together with its growing portfolio of 250+ connectors, enable mutual customers to synchronize any business data from online sources to BigQuery, AlloyDB, and Cloud SQL, as well as from these storages to other databases and operational applications.
Data Virtuality Launches Three New Features in SaaS Offering
In an on-premises setup, Data Virtuality can easily connect to data sources that are locally hosted on clients' networks and protected by strict firewall rules. With the introduction of Data Virtuality SaaS, the Data Virtuality side of communication now resides on the public internet, and the Cloud Agent bridges this connection.
Denodo Achieves Google Cloud Ready Designation
The Denodo Platform for Google Cloud provides an enterprise-grade cloud data management solution that enables real-time data integration between on-premises, cloud, and multi-cloud data sources with all Google Cloud data sources – Google BigQuery, CloudSQL, Cloud BigTable, Cloud Storage, Cloud DataProc, and more, including SaaS applications.
EDB Announces Postgres Distributed on EDB BigAnimal
Active-active architectures distribute the workload across multiple database nodes to achieve higher availability and unlock capabilities enterprises need to build modern applications with confidence and ease. In case of node failure, workloads are automatically rerouted to operational instances. This balancing across multiple resources benefits enterprises by ensuring uninterrupted service and improving uptime.
Fivetran Extends Partnership with Google Cloud
Fivetran chieved Google Cloud Ready – Cloud SQL Designation for Cloud SQL, Google Cloud's fully managed relational database service for MySQL, PostgreSQL, and SQL Server, and was recognized as a launch partner in Google's Data & AI Cloud for Marketing.
Qlik & Talend Achieve Google Cloud Ready – Cloud SQL Designation
These partners have closely collaborated with Google Cloud to add support for Cloud SQL for MySQL, PostgreSQL or SQL Server into their solutions and tune their existing functionality for optimal outcomes. This designation recognizes the partner solutions that have met a core set of functional requirements and validated in collaboration with Google Cloud engineering teams.
Precisely Joins the Overture Maps Foundation
As a contributing member, Precisely will provide vital location intelligence and data enrichment expertise to simplify interoperability between different datasets. This will allow organizations around the world to freely access geospatial data and spatial analytics, and ultimately, drive exciting new advancements in geospatial technology.
Vaultree Unveils Advanced Data-In-Use Encryption for Google Cloud
Google Cloud Ready is a validation program that brings customers confidence in partner integrations including Cloud SQL (for both MySQL and PostgreSQL engines) and AlloyDB. Receiving these designations means that Vaultree has closely collaborated with Google Cloud engineers to add support and fine-tune existing functionality for the most optimal customer outcomes.
Expert Insights Section
Watch this space each week as Solutions Review editors will use it to share new Expert Insights Series articles, Contributed Shorts videos, Expert Roundtable and event replays, and other curated content to help you gain a forward-thinking analysis and remain on-trend. All to meet the demand for what its editors do best: bring industry experts together to publish the web's leading insights for enterprise technology practitioners.
What to Expect at Safe Software's The Peak of Data Integration 2023 on September 5-7
Join Safe Software (and Solutions Review!) at the Peak of Data Integration 2023, the largest gathering of FME users on earth. The event, which takes place from September 5-7 in Bonn, Germany, will offer learning and networking opportunities and hands-on training with FME.
What to Expect at Denodo DataFest 2023 on September 12-14
This event offers opportunities to learn about best practices and tips for leveraging the Denodo Platform's logical approach for cloud modernization, self-service analytics, data science and machine learning (ML), data fabric, data mesh, and more.
Solutions Review Set to Host BARC, Sigma Computing, Monte Carlo & Databricks for AI Expert Roundtable on September 14
With the next Expert Roundtable event, the team at Solutions Review has partnered with BARC Research, Sigma Computing, Monte Carlo, and Databricks to showcase real-world examples of success and help you understand new strategies for augmenting your existing data and analytic investments to innovate, better leverage AI and realize greater ROI.
For consideration in future data management news roundups, send your announcements to the editor: tking@solutionsreview.com.