Top WorkTech News From the Week of August 25th: Updates from Appian, Deloitte, airSlate, and More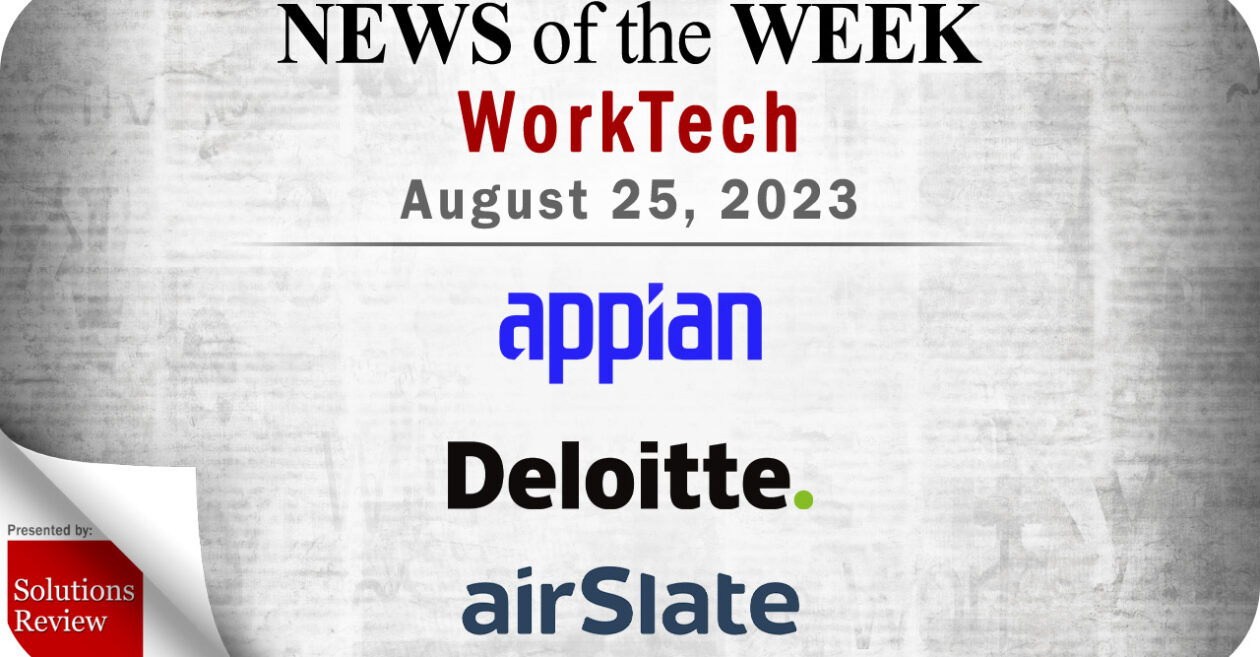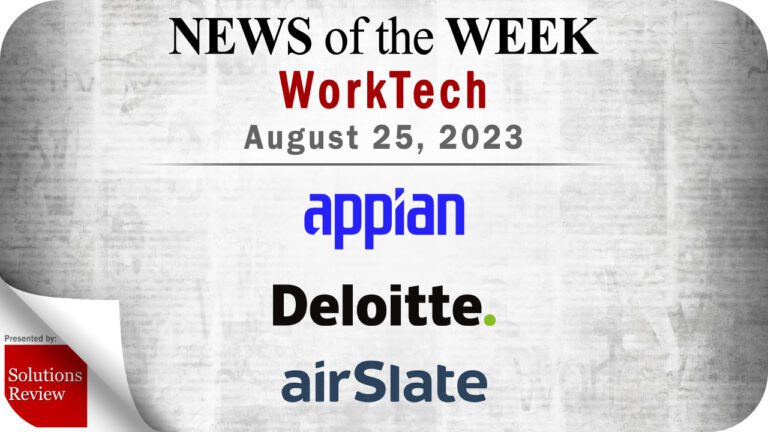 The editors at Solutions Review have curated this list of the most noteworthy WorkTech news from the week of August 25th. This round-up covers announcements and updates from companies like Appian, Deloitte, airSlate, and more.
Keeping tabs on the most relevant ERP and BPM news can be time-consuming. As a result, our editorial team aims to summarize the week's top headlines in the enterprise technology marketplace. The Solutions Review editors will compile a weekly round-up of vendor product news, mergers and acquisitions, venture capital funding, talent acquisition, and other noteworthy WorkTech information. With that in mind, here is some of the top WorkTech news for August 25th.
Top WorkTech News From the Week of August 25th, 2023
---
airSlate, a document workflow automation solution provider, has launched QuickStart, a new offering released in collaboration with Forthright Technology Providers, a user-centric IT solution and service provider. The QuickStart package combines airSlate's automation tools—including five automation bots, customizable workflows, built-in eSignatures, unlimited document processing and storage, and more—with Forthright's professional services offerings. With this package, companies can streamline businesses, eliminate unnecessary complexity, and fast-track their digital transformation efforts at a fixed price.
---
Appian has announced the immediate availability of the latest version of its Appian AI Process Platform. The new update includes Appian AI Copilot, an AI assistant designed to increase developer productivity, accelerate development with generative AI interface creation tools, and streamline the delivery of process automation solutions. Other additions to the platform include an updated AI Skill Designer user experience, expanded RPA capabilities to help companies manage access and permissions for robotic tasks, and more security functionalities that allow users to train AI to help protect their data.
---
Deltek—a global software provider for project-based businesses—has completed its acquisition of Replicon, a unified time-tracking, finance, HR, and project-delivery solution provider. Replicon will join Deltek's solution portfolio and complement its enterprise software and information solutions to help organizations improve project success. The acquisition supports Deltek's ongoing efforts to expand into additional project-based industries. Replicon's solution will be available separately from the Deltek ERP system and won't replace the native time application in Deltek's ERP suite.
---
Hexagon, a digital reality solution provider, has released a new cloud-based solution for utilities and telecom geospatial asset management use cases. The flexible, integration-ready solution will provide companies with a unified source of up-to-date information on all the tools different users handle across a business. It will also provide utilities and telecommunications companies with the tools needed to modernize their asset management efforts, analyze the data generated by smart grid devices, and develop digital twins of their physical networks, assets, and topology.
---
LeanIX—a platform enabling continuous transformation of corporate and product IT—has partnered with Microsoft to launch the LeanIX AI Assistant. The new tool is an enterprise architecture (EA) management solution that utilizes Microsoft Azure OpenAI Service to apply generative AI to the EA discipline, helping organizations transform how they work with enterprise architecture data sets. With this tool, companies can expedite report creation, automate the documentation of tasks, research successor technologies, simplify access to EA tools for business users, and receive recommendations for their existing architecture.
---
Propel Software, a product value management (PLV) platform, has announced the availability of new Accelerated Value Services. These new services—included as part of the company's second major product release of 2023—can streamline the software implementation process, provide clients with a faster return on investment (ROI), and equip organizations with operational excellence across their quality management (QMS), product information management (PIM), and product lifecycle management (PLM) software solutions. Additional updates in the product update include several new features designed to improve business processes via enhanced user experiences.
---
Expert Insights Section
---
Watch this space each week as the Solutions Review editors will use it to share new articles from the Contributed Content Series, Contributed Shorts videos, Expert Roundtable videos, event replays, and other curated content to help you gain a forward-thinking analysis and remain on-trend with changing industry expectations. All to meet the demand for what its editors do best: bring industry experts together to publish the web's leading insights for enterprise technology practitioners.
---
As part of Solutions Review's Contributed Content Series, Mike Ettling, the CEO of Unit4, outlines three ways that AI-powered ERP software supports positive change for organizations. For example, ERP software powered by AI can help organizations improve resiliency, optimize experiences for customers and employees, and maximize productivity.
---
As part of Solutions Review's Contributed Content Series, Rob Spitzer, Director of Cloud Services at InterVision, explains why small and medium-sized businesses (SMBs) must migrate to the cloud. Spitzer's article outlines a few of the benefits SMBs can experience from cloud migration, including additional cost savings, flexibility, security, internal collaboration, and innovation.
---
As part of Solutions Review's Contributed Content Series, Mikel Lindsaar—the CEO and founder of StoreConnect, a customer commerce company—points out some of the hidden costs of using third-party logistics (3PL), highlights the importance of "owning" your customers, introduces the benefits of E-Commerce 3.0, and more.
---
For consideration in future WorkTech news round-ups, send your announcements to wjepma@solutionsreview.com.
---
Latest posts by William Jepma
(see all)